CORTOMETRAGGIO about William Shakespeare's HAMLET
DRAMATURGY
Giovanni Battaglia      Maria A. Listur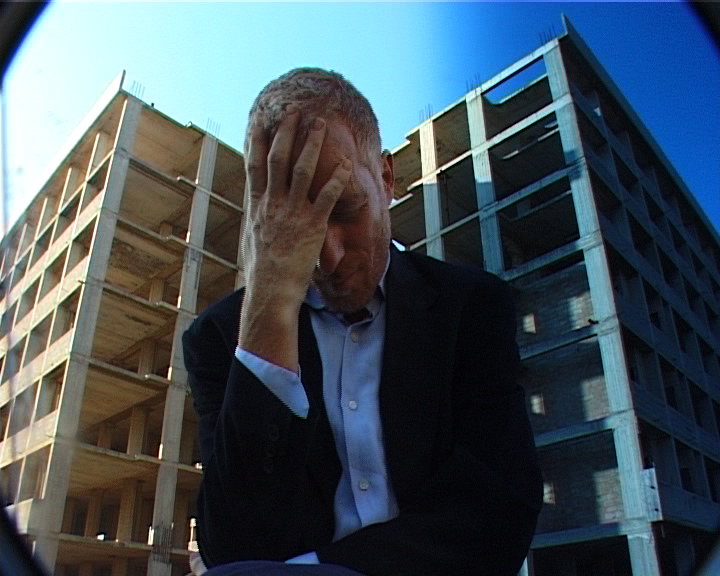 SYNOPSIS
Horatio's dream wants to be the representation of William Shakespeare's tragedy dreamt by Horatio, Hamlet's friend. A dream about the superimposition of the personalities that is typical of the dream and the human brain.
The movie is performed in a huge unfinished building, obsessively repetitive, with only the floors and pillars and many cracks on the void.  A concrete jungle in a strident sonorous context between the croaking of frogs and the echoes of the traffic jam of the nearby highway. In this framework the characters, as actual replicants of the Shakespearean plot, move as ghosts, passing through their own darkness inside, looking for the Hamletic essence that is telling of the human being's unanswered question: "To Be or Not To Be…"
Our aim is to find a dwelling to the plot according to the space where we build the dramatic action, and to recreate Hamlet by telling about the places where we live today. Elsinore here represents suburbia, a place of neglection, of coldness that lives in us even before becoming a building that will then turn into a home, a hearth. It represents that place of the mind where abuse, speculation and loss are allowed.
"History can be servitude. History can be freedom, now they disappear. Faces and places, with that part of us that would love as it could. To renew, transfigure itself in another plot."
HORATIO'S DREAM is a film completed in September 2015 and it has never been shown before.
CAST
HORATIO    Giovanni Battaglia
HAMLET – THE QUEEN   Maria A. Listur
THE KING   Alberto Kurapel
DANCERS
Stefania Brugnolini    Anna Marinelli    Cristiana Milioni
Emanuela Mondiello    Antonella Pugliese   Luca Russo
CHOREOGRAPHY     Dino Verga
CAMERAMAN     Pietro Baldoni    Giuseppe Malpasso
SOUND     Matteo Orsini
COSTUMES     Maria A. Listur
PRODUCTION ASSISTANT     Rossella Carocci
TRANSLATION     Gabriele del Papa
VIDEO DIRECTOR   Michele Truglio
VIDEO ART EDITING   Daniela Ciotola
MUSIC     J. Brahms/ Ein Deutsches Requiem, Op. 45
Berliner Philharmoniker, Claudio Abbado
PRODUCTION     relazion@rte – MD'art